Turbulence Training
Bodyweight Cardio 1000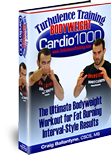 One of the most amazing advantages of using your own bodyweight to lose fat and build muscle is that you don't have to fork over hundreds of dollars for big, bulky equipment anymore.
But what you might not realize is just how powerful these fun and challenging bodyweight exercises actually are for fat loss. Plus, there are TONS of unique bodyweight exercises you can do WITHOUT equipment that are proven to quickly sculpt your legs and arms, while strengthening your sexy muscles.
Plus, with greater flexibility than their "traditional weight workouts", the Turbulence Training Bodyweight Cardio 1000 program puts you in the driver seat by letting you decide when and where to workout.  
In Bodyweight Cardio 1000 You Gain Access To:
1.    A demanding tri-set style workout that will leave your legs begging for mercy.

2.    The brand NEW version of the infamous "5 gruelling rounds of 5 fat-blasting exercises" program that has become one of my most popular bodyweight workout routines.

3.    A heart-pumping bodyweight cardio 1000 circuit challenge that is exponentially better than long, slow, boring cardio could ever be.
So what are you waiting for?  Grab your copy of TT Bodyweight Cardio 1000 and start using the most powerful pieces of fat loss equipment freely available to you – your body.